Explore Chevy Chase
Melinda's Favorite Things About Chevy Chase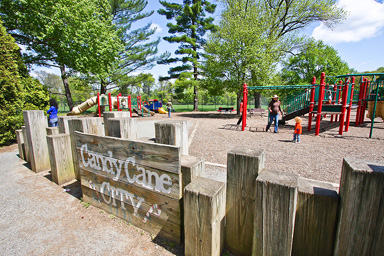 Having grown up in Chevy Chase, there are many things I have learned to love about the neighborhood. When very young, I used to play in Candy Cane City in Rock Creek Park when the play equipment was actually stripped like candy canes. I took horseback riding lessons at Meadowbrook stables. I also used to play in Zimmerman Park which is a small park at the corner of East West Highway and Maple Avenue. The Zimmerman brothers were both avid gardeners who landscaped the park on their own just to beautify the neighborhood. They lived on Maple Avenue. When they died the Town of Chevy Chase dedicated the park to them with a plaque.
My Community Involvement had Early Roots in Chevy Chase
I used to hold a carnival on Lynn Drive as a child every year in the 1960's to raise money for Muscular Dystrophy. We set up all sorts of events such as fortune telling and games. We even had a voodoo trail through the woods near what is now the crescent trail. It was a guided tour with masks, scary stories and surprise natives running out of the bushes. The neighborhood children had so much fun helping to plan and set up the carnival. We raised a good amount of money for the cause, too.
I have wonderful memories of Halloween. My Mother used to dress up every year. She was pretty scary and the kids loved coming to our house to see the show. Autumn leaves and carved pumpkins lined the streets as everyone got into the spirit. To this day I decorate my own home extensively to carry on the tradition.
I walked to all my schools growing up. Chevy Chase Elementary when it was six grades, Leland Junior high School, which is now a Community center and Bethesda Chevy Chase High School. We always took different routes to get to school and made it an adventure. Whether there were snowball fights on the way or wading through the 17 year cicadas, it was always fun.
Rock Creek Park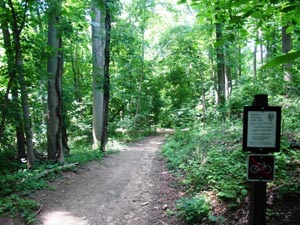 I now run through the trails in Rock Creek Park. Every trail is different but equally beautiful at all seasons. There is so much wildlife. I have seen not only deer, but fox, owls, frogs, ducks, geese, incredible varieties of birds and a coyote. What a wonderful opportunity to have so much nature in the city. In the early spring of 2010, the frogs were breeding in record numbers. The huge winter snowstorms created a lot of fresh water which the frogs appreciated in the ponds and creeks. They made an incredible sound and people gathered to observe them. For the first time in a while I have seen fish in the creek. There are even blue Herons that have arrived as a result.
I wish everyone would work harder to keep the park clean of litter. It breaks my heart to see trash along the roadways and on the trails. Every year my husband and I join with the volunteers for a day to help pick up litter in the park. On Saturdays and Sundays a portion of Beach Drive is closed down so it is a wonderful opportunity for walkers, bikers and skaters to enjoy nature without having to worry about traffic. The Crescent Trail also runs from Silver Spring Maryland, through Chevy Chase all the way to Georgetown in DC. You can ride your bike from Chevy Chase to Downtown Bethesda in as little as ten minutes.
Chevy Chase Shopping & Farmers Market
I have been shopping at Chevy Chase Supermarket for years. They are a family owned supermarket that does everything they can to please. Parking is always easy and the staff is friendly and helpful. If you want them to carry a particular product they will try and order it for you. I also love the music they play. Brookville Market, although smaller, is also very convenient. They have a good butcher. It is right next door to Brookville Pharmacy who are also extremely personable and helpful for your health questions. They also deliver.
Every spring, the fruit and vegetable stand opens on Jones Bridge Road. It features local produce and is a wonderful addition to my food shopping. I always know spring has truly arrived when they start to set up for the season.
No one should miss a visit to the Audubon Society park on Jones Bridge Road. It is a very serene destination with wonderful walking paths and bird watching. They also sell a variety of bird houses and bird supplies.
For upscale shopping, Friendship Heights has really evolved over the last several years. It is on the Metro line and borders DC. There are a variety of great restaurants and wonderful window shopping. It is also the location of many top notch Doctors.
The Unique Neighborhoods of Chevy Chase
I have always loved the variety of classic and charming architecture and tree-lined streets in all the Chevy Chase neighborhoods. Each section and town has its own uniqueness and there is no other place like it in the county. I have been a life time resident and proud to live and work here.
Discover More of Chevy Chase